There's a new Game of Thrones-themed pop-up bar in Edinburgh, and it's pretty damn awesome.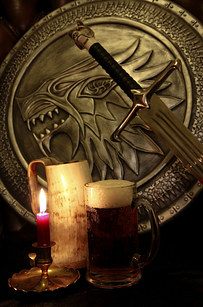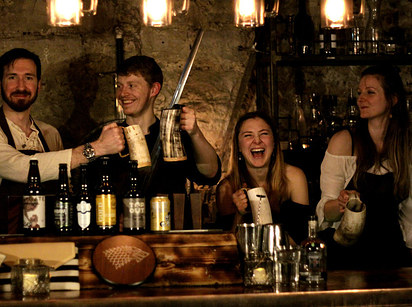 It's open in the medieval-looking, candlelit basement of the Daylight Robbery bar on Dublin Street every Wednesday and Thursday night until the end of February, and it's run by a company called The Pop Up Geeks.
So being a fans of a) Game of Thrones, and b) midweek drinking, we just had to check it out.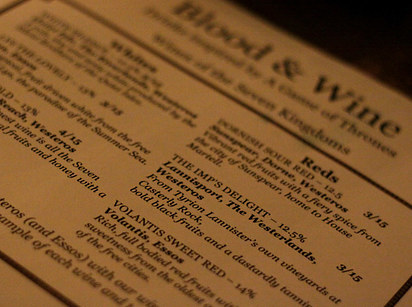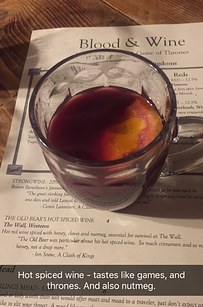 And it was SO. MUCH. FUN. The level of detail was crazy, and the extensive booze menu was carefully based around George R.R. Martin's descriptions of the various drinks that the characters enjoy (and get poisoned by) in the books.
There were tons of cool touches, like posters, props from the series, and furs draped across countertops.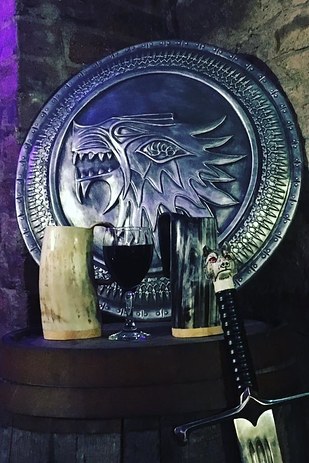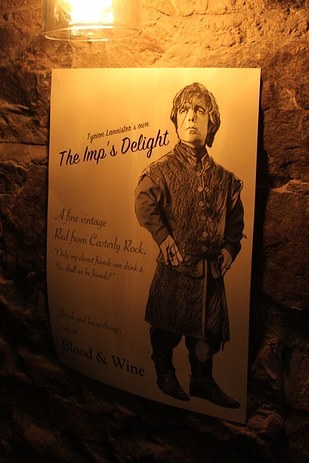 The organisers also played atmospheric, medieval-sounding Celtic music that you could hear as you came down the twisting stairs to the bar, and which made you feel like you were about to get stabbed to death at a wedding (but in a good way).
We started our night with a couple of cocktails. Or "infusions", as they're known in Westeros (obvs).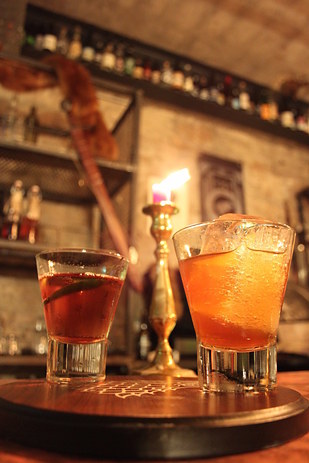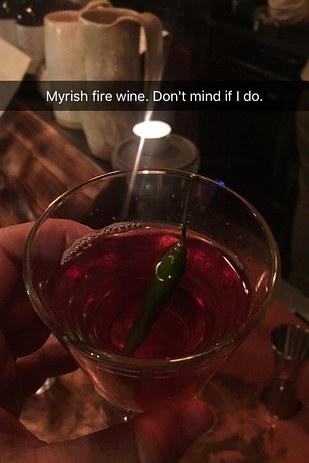 The one on the left is a Myrish fire wine (a blend of white wine, dragon pepper, tomato, and chilli), and the one on the right is a Black Tar Rum cocktail.
The fire wine was delicious, boozy, and spicier than a steamy sex scene with Daenerys and Drogo. The dark rum had an orange garnish (presumably to prevent scurvy, as it's based on the rum that Tyrion drinks while he's at sea).
We also tried the Icelandic vodka made by Hafþór Júlíus Björnsson, who plays Ser Gregor Clegane.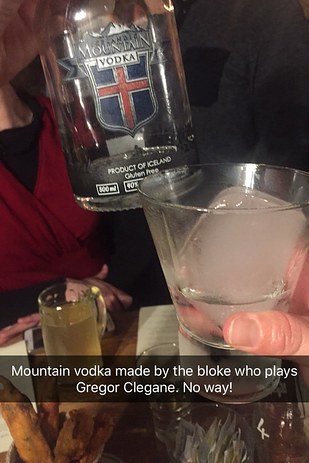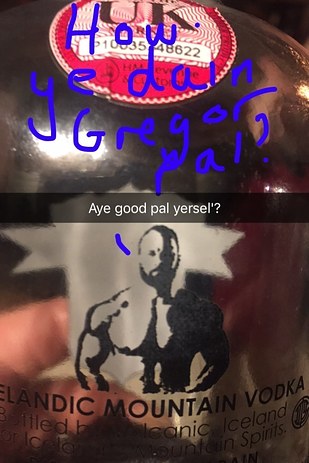 And it went straight to our heads, as you can see from the shit Snapchat above.
Then we sampled "the wines of the Seven Kingdoms".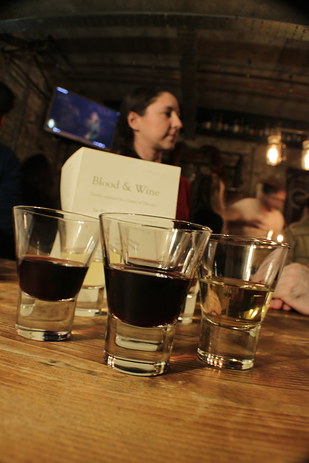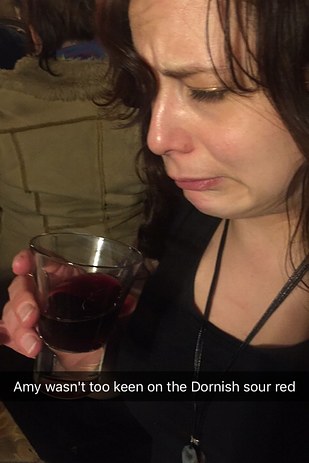 For £10, we got seven wines, all of which had been carefully sourced to match the ones in the books and TV show.
The sweet, rich "Arbor Gold" on offer was actually a Chilean ice wine – a type of dessert wine produced from grapes frozen while still on the vine. It was the opposite of the Dornish sour red, which was so sharp we worried we'd been poisoned, until we remembered that we weren't in King's Landing, and that none of us were Joffrey.
And it wouldn't be Game of Thrones without meat for your belly, so we had some "Frey Pies".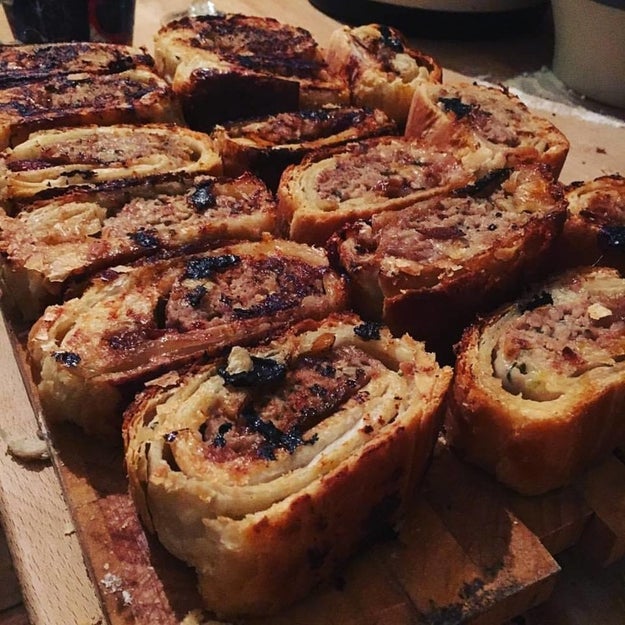 The Pop Up Geeks
Shouldn't they be called Frey Bentos? (Sorry.) Other food on offer included "Sansa's Lemon Cakes", and an entire pig haunch, which the organisers hacked big chunks of meat from. Robert Baratheon would have been impressed.
Then we got to play with the props, including a replica of Jon Snow's Valyrian steel sword, Longclaw. Yassss.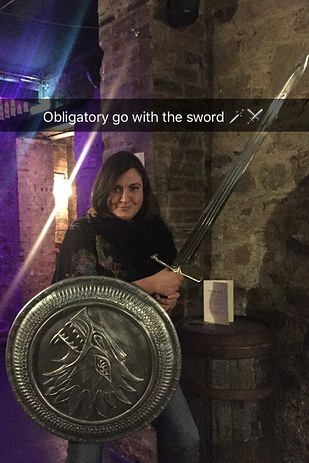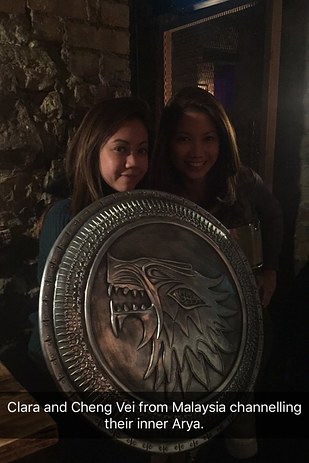 Which possibly wasn't the best idea given the fact we were a bit pissed. It's OK though; the swords are blunt so no one got eviscerated…although tbh some bloody handprints and entrails dotted around the place would add to the overall effect.
At the end of the night, we really did feel like we'd spent an evening at The Inn at the Crossroads.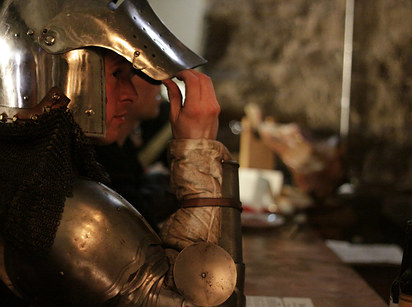 With the added bonus that no one murdered a butcher's boy called Mycah.
Linden Wilkinson, one of the founders of The Pop Up Geeks, was bartending on the night and explained: "We really do love
Game of Thrones
, and wanted to attract genuine fans like ourselves. We spent a lot of time on research, sourced the swords and armour from The Knight's Vault (an armorer in Edinburgh) and our bone mugs are made by Abbeyhorn, the official suppliers to the TV series."
In short, if you want to pretend that you're a Lannister while brandishing a sword and downing strange wines and delicious cocktails, head to this epic AF bar.
HBO
You definitely won't regret it.
Source link
---